Relax 2 Zero 3D Inversion Massage Lounger
$8,999.99
All chairs in the Relax2Zero series are uniquely designed to address the need we all have for a relaxed body, reduced stress, and improved posture. The latest model in this series, the Relax2Zero 3D offers advanced technology and special therapeutic features that together deliver the most advanced full-body massage therapy.Regular use may reduce symptoms of stress, relieve pain, enhance circulation, ease insomnia, improve flexibility, increase mental awareness, and encourage relaxation.
Compare
Description
Inversion Power Stretch
The "Inversion Power Stretch" offers an incredible full-body therapeutic stretch, reducing pressure, relieving pain, and leaving you feeling energized and limber. With this incredible combination of stretching techniques, you can skip your sweaty yoga class and still feel relaxed and renewed. This feature includes the following:
Spinal Decompression Stretch
Stretches the lower back and decompresses the spine, temporarily removing the crushing pressure of the vertebrae.
Neck & Shoulder Grip
Keeps the spine straight so that the pull of the stretch properly aligns the vertebrae.
Seat Twist
Gentle, controlled twist stretches the core abdominal muscles and further stretches the spine and lower back in two opposing directions.
Heat Therapy
Muscles are warmed so that they are more pliable; heat can also reduce swelling, relieving pain.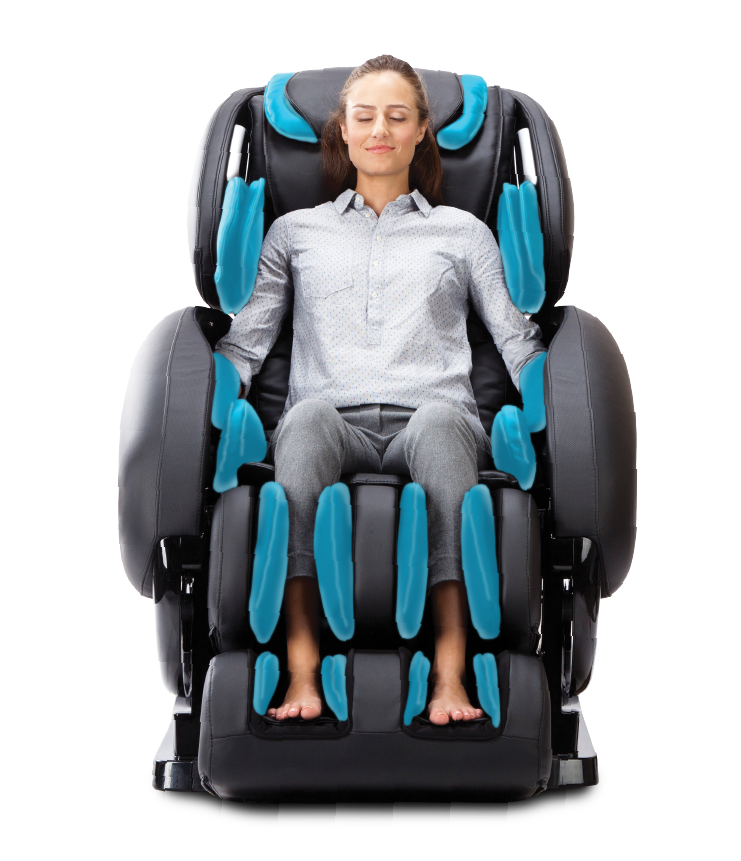 Full-body Massage with 42 Airbags
Built into the chair are 40 Airbags that rhythmically inflate and deflate during your massage session. These airbags gently stretch muscles to ease tension, improve circulation, and ease body fatigue.
Upper & Lower Body Air Massage
The airbags located on the shoulders, around the arm, and under the thighs and calves generate a full-body stretch.
Neck & Shoulder Air Massage
The airbags in the cushioned headrest inflate and deflate to gently stretch the neck from side to side, while rhythmically squeezing and releasing muscles along the neck and shoulders.
Luxury Calf & Foot Massager
Powerful airbags squeeze the calves to relieve tension and improve circulation, while multiple foot rollers stimulate reflexology zones on your tired feet.
Ankle Grip
The built-in ankle grips cradle your ankle in place to thoroughly massage the foot soles, ankles, and calves.
Undulating Ankle Grips
Airbags surrounding the feet inflate and deflate to mimic the alternating compression technique of a live massage.
---
---
Technical Specifications
7 Manual Modes Kneading up, Kneading down, Tapping, Knocking, Shiatsu, Sync, Rhythm
Inversion Yes
Zero Gravity Yes
Heat Yes
Auto Body Scanning System Yes
Auto Recline Yes
Footrest Length Adjustment 5.5 in
Speed Control Yes
Number of Speeds 6
Number of Width Options 3
Target Areas Whole, Partial, Point
Removable Pillow Yes
Total Number of Airbags 42
Leg Massage Calf, Foot, Ankle, Reflexology
Foot Massage Airbags & Rollers
Automatic Shutoff Yes
Minimum Distance from Wall 12in
Weight 229 lbs
User Weight Limit 300 lbs
User Height Range 4'8″ – 6'6″
Power Supply 240 W
Rated Frequency 50/60 Hz
Standby Power 1.5W
Rated Voltage 110 – 120V
Voltage of Key Components 24V
Upright Dimensions 59 x 35 x 45 in
Reclined Dimensions 76 x 35 x 33 in
Available Colors Black, Choco
Upholstery PU (synthetic leather)
Auto Timer 10min, 20min, 30min
Massage Track 31in S-shape Track
Vertical Movement Speed 2 in/second
Tapping Width 3.9/5.9/7.9 in
Reclining Angle 172˚
Cord Length 75 in
3 Automatic 3D Programs Deep Shiatsu, Breathe, Revive
18 Automatic Programs Recovery, Extend, Relax, Refresh, Upper Body, Lower Body (6 programs* 3 time settings)