Shogun Neck & Back Massager
$219.99
The Shogun is an innovative neck and back massager that attaches to any chair or other seating to target hard-to-reach sore muscles. Automatic massage nodes move and rotate to give a mix of deep-kneading and tapping shiatsu massage treatments, while an optional heat setting warms muscles and melts tension.
Compare
Description
PORTABLE DEEP-TISSUE MASSAGER
3 auto programs make it a snap to sit back, relax, and receive a massage that cycles through a variety of features automatically.
Attach to any chair or other seating.

Automatic massage nodes move and rotate to give a mix of deep-kneading and tapping shiatsu massage treatments.

Features upper, lower, or full back rolling massage programs, and a spot-massage mode for targeting a specific problem area.

15-minute auto shut-off
10 MASSAGE NODES
NECK NODES
Four targeted massage nodes around the neck focus on neck and shoulder muscles, where tension is often stored. As the nodes rotate, they press and slide against muscle fibers in the exact same way that a professional masseuse would. Adjust them up or down using the remote for a treatment targeted to your unique shape.
BACK NODES
Six additional massage nodes in the back pad move up and down the spine, pressing and rotating to give needed relief to tight back muscles. While some of the nodes continually rotate, others exert a "tapping" technique that breaks apart tense, knotted areas.
The back-massage nodes can be targeted in a variety of ways, so that every massage can be customized to your needs. Choose to focus on the upper back, the lower back, or the full back. Or, when you find that the massage nodes have hit on an area that needs focused treatment, like a sore spot or tight knot, press the "Spot" button to keep it there for as long as you like.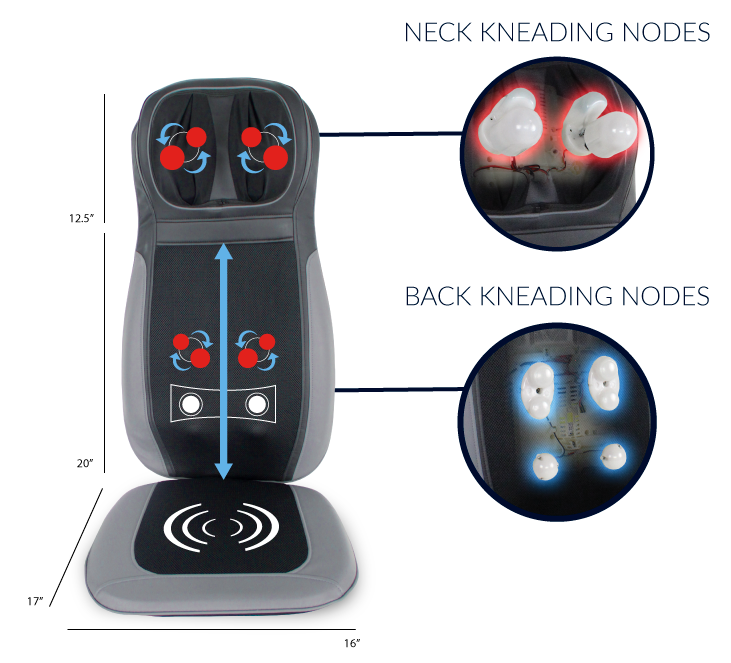 MEMORY FOAM SEAT CUSHION
The memory foam seat cushion features its own vibrating seat massage with 3 intensity settings. It provides support and padding to the upper-back legs, and the optional vibration massage feature soothes the backside.
WARMING HEAT
An optional heat setting warms the muscles so that they are pliable, giving you the most effective shiatsu massage. As your muscles warm up, feel the tension and pain melt away.
A remote control allows you to customize the experience throughout the massage treatment.
Home adapter and car adapter included.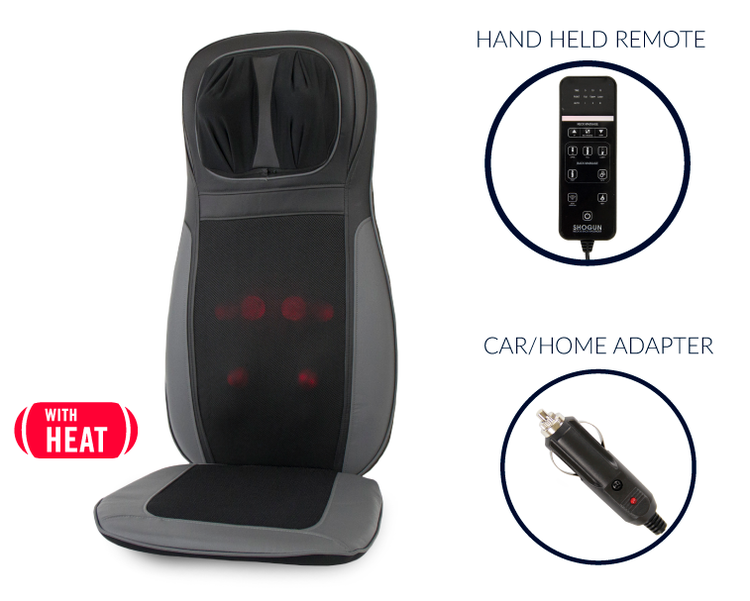 PRODUCT SPECIFICATIONS
Model Number: USJ-874
Rated Voltage: 12V
Rated Frequency: 48W
Box Dimensions: 32.4 x 8.9 x 18.5 in | Weight: 17.6 lbs
Product Dimensions: Back- 30.5″ x 16.5″ Seat- 16″ x 17″ | Weight: 14.3 lbs